Top Executive Recruiters and Jobs in Dallas, Texas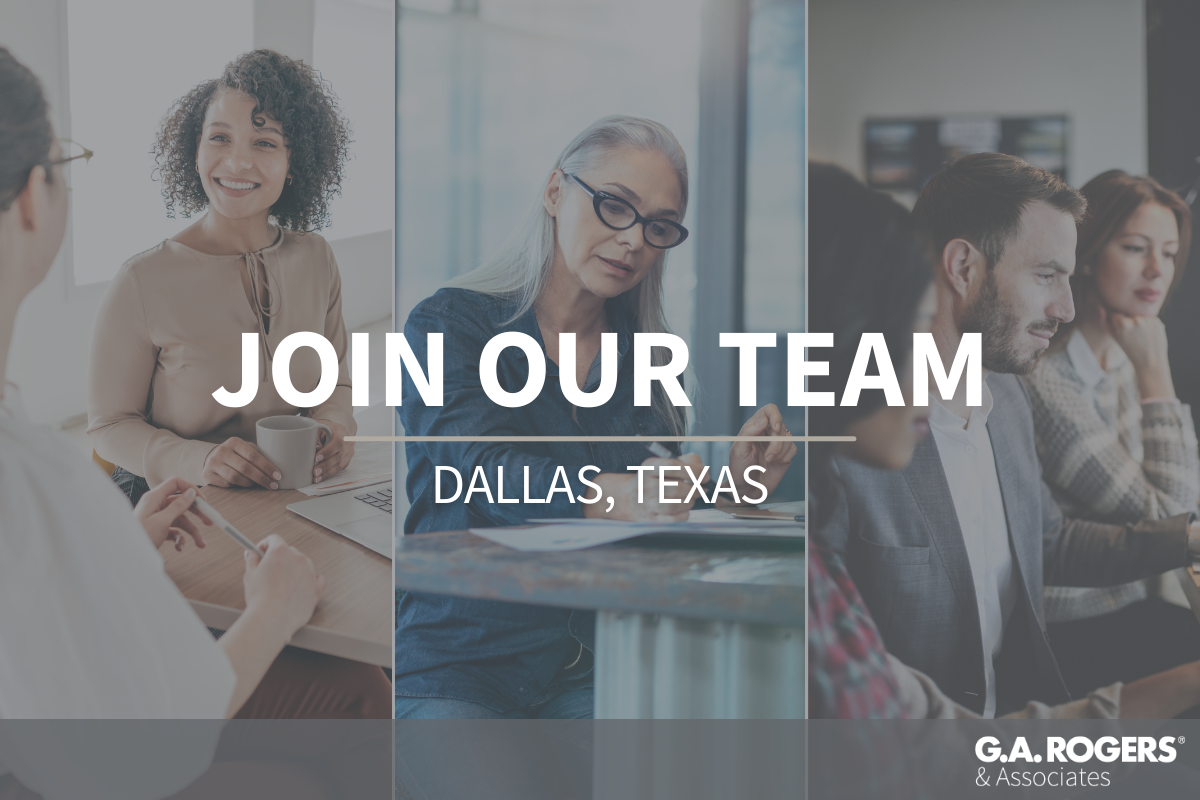 G.A. Rogers was founded to help companies hire top talent to fill critical leadership roles. Our Dallas recruiters have a unique understanding of the local market and constantly network with the area's top talent. We represent talent from the C-Suite to supervisor and management roles. The Dallas Business Journal has named G.A. Rogers one of the best places to work in the area.
If you have management experience and are looking for employment, G.A. Rogers can help give your career a boost. Here is a small sample of the many positions we have available in the Dallas area.
Senior Financial Analyst Jobs in Dallas
The senior financial analyst will provide financial analysis, budgeting, forecasting, reporting, variance analysis, M&A analysis, and other decision support services to the company leadership.
The responsibilities of the job include conducting research, performing analysis, developing various financial and forecasting models, and making recommendations to support management decisions.
In addition, this position analyzes, prepares, and summarizes recommendations for financial plans, acquisition activity, financial trends, and operating forecasts. They also provide analysis in financial budgeting and planning and presents to leadership the financial data and performance.
This position also requires creating and analyzing monthly, quarterly, and annual reports and ensuring the accuracy of financial information. Search Financial Analyst Jobs in Dallas now>
Senior Internal Auditor Jobs in Dallas
The job of the auditor is planning for, conducting, and reporting the results of Sarbanes-Oxley Act compliance measures for a financial services firm.
The responsibilities of this job include documenting and updating the Sarbanes-Oxley framework for control and/or testing modifications that are identified throughout the completion of testing procedures.
The internal auditor will work with external auditors to coordinate audit requests, sample selections, and testing procedures. As part of the Sarbanes-Oxley compliance effort, the auditor will lead and perform control testing, including business process testing, application control testing, and IT general controls testing. The auditor will also assist with planning, performing, and overseeing internal audit and Sarbanes-Oxley testing procedures to ensure risks are appropriately identified. Search Auditor Jobs in Dallas now>
Accounts Payable Manager Jobs in Dallas
This person will oversee a team of AP processors and will manage monthly closing of financial records and posting of month-end information.
The AP manager will develop and implement process improvements and help with automation projects. They will manage an AP team handling invoice processing within 3 ERP systems. Additional duties include interviewing and hiring employees, as well as training and evaluating workers. The manager will also oversee system implementations and process updates to increase productivity. Search Accounting Jobs in Dallas now>
Senior Accounting Manager Jobs in Dallas
The responsibilities of this job include overseeing all aspects of accounting and reporting matters for various lines of business, including the formulation of accounting policies, as well as coordination and analysis of close process with subsidiaries, corporate accounting, and operations teams. Search Accounting Management Jobs in Dallas now>
Looking for a great recruitment agency in Dallas?
At G.A. Rogers, we care about our job candidates, our results and our relationships. We take the time to get to know each one of our candidates, enabling us to make better matches with employers. We treat our people with respect, and establish long-term relationships. Give us a call today to see what we can do for you.