PrideStaff in North Dallas Launches New Professional Recruiting Division
June 7, 2021
---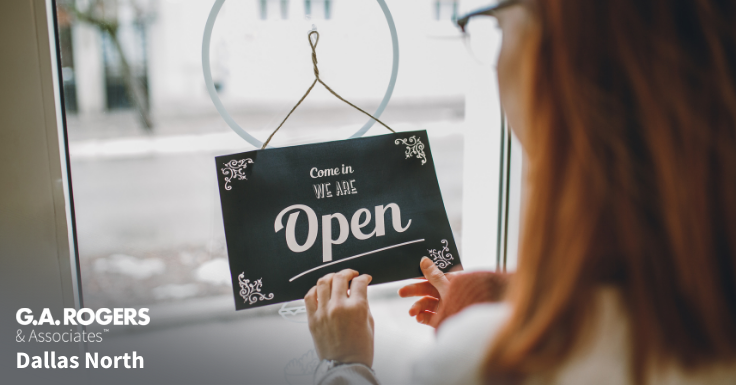 As businesses across the country struggle to find qualified talent, PrideStaff is pleased to announce that their Dallas North office has added a G.A. Rogers & Associates division to its existing operations. A natural extension of PrideStaff's staffing and placement franchise, G.A. Rogers & Associates addresses clients' direct hire needs for executive, managerial and supervisory roles in PrideStaff's core areas of focus.
After celebrating PrideStaff North Dallas's 20th anniversary, Owner/Strategic-Partner Amy Linn is now looking forward to heading her office's new executive and professional recruiting division. "Having talented professionals and leaders on your team is critical to achieving business goals and building the right culture," said Linn. "In the hyper-competitive North Dallas employment market, we are thrilled to expand our capabilities for clients, delivering the thinkers, visionaries, innovators and leaders they need. We're also thrilled to promote Executive Recruiter Sarah Brown to lead the G.A. Rogers & Associates division for our office."
Growing client demand and talent shortages in leadership roles fueled this exciting expansion. "We created G.A. Rogers & Associates to help organizations direct-recruit leadership talent that may not be actively searching for a job," said G.A. Rogers & Associates Vice President, Karen Cowan. "In North Dallas and across the nation, candidate shortages are making it increasingly important to partner with a recruitment agency to proactively source top talent. Our professional search consultants shorten hiring timelines for vacant roles and confidential placements, and they can also proactively source managerial and leadership talent to fuel clients' growth opportunities."
For job seekers throughout North Dallas, working with G.A. Rogers & Associates means access to higher-level positions across the country, many of which won't be advertised elsewhere. Experienced managers, supervisors, business professionals and executives are encouraged to explore and apply to job opportunities jobs.ga-rogers.com.
About G.A. Rogers & Associates
A division of PrideStaff, G.A. Rogers & Associates specializes in executive and professional recruiting. The parent company was founded in the 1970s as 100 percent company-owned units and began staffing franchising in 1995. They operate over 80 offices in North America to serve over 5,000 clients. With over 40 years in the staffing business, headquartered in Fresno, CA, all PrideStaff brands offer the resources and expertise of a national firm with the spirit, dedication and personal service of smaller, entrepreneurial firms. For more information on G.A. Rogers & Associates services, visit our website.
PrideStaff and G.A. Rogers & Associates shared Mission: Consistently provide client experiences focused on what they value most.
---
« Return to press room