PrideStaff Expands in Downtown Dallas: Office Launches New Professional Recruiting Division
February 10, 2022
---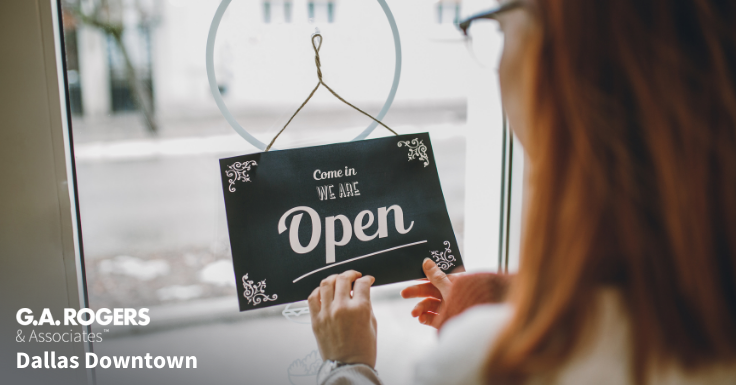 To meet the growing talent needs of employers during a time of critical candidate shortages, PrideStaff is pleased to announce that their Dallas Downtown office has added a G.A. Rogers & Associates division to its existing operations. A natural extension of PrideStaff's placement franchise, G.A. Rogers & Associates addresses clients' direct hire needs for executive, managerial and supervisory roles in PrideStaff's core areas of focus.
Having just opened the Dallas Downtown office as part of the award-winning North Dallas office's expansion plan, Owner/Strategic-Partner and eight-year PrideStaff veteran, Victoria Burke immediately recognized a need for executive and professional recruiting solutions in her territory. "Right now, the entire metroplex is suffering from severe talent shortages, and employers here are feeling the hiring pain quite acutely," stated Burke. "While both our PrideStaff and PrideStaff Financial divisions are designed to connect employers with the qualified office, light industrial, accounting and financial candidates they need, our new G.A. Rogers & Associates division allows us to offer an even wider range of solutions and job opportunities."
"Focusing on executive and managerial roles, G.A. Rogers & Associates helps organizations direct-recruit exceptional problem-solvers, visionaries and leaders who may not be actively searching for a job," continued Burke. "Our professional search consultants proactively source top talent, including passive candidates, to accelerate hiring and fuel clients' growth opportunities."
"In downtown Dallas and across the nation, the talent drought is making it increasingly important to choose an experienced recruitment partner for professional-level placements," said G.A. Rogers & Associates Vice President, Karen Cowan. "Led by industry veterans, our team brings more than 40 years of executive and professional recruiting experience to every search – allowing our clients to hire faster and more successfully in a tight candidate market. Backed by PrideStaff's proven reputation for service excellence, and supported by one of the nation's most successful hiring infrastructures, Victoria's new G.A. Rogers & Associates division will equip her team to help both employers and job seekers in her market capitalize on the improving economy."
For job seekers throughout downtown Dallas, working with G.A. Rogers & Associates means access to higher-level positions across the country, many of which won't be advertised elsewhere. Experienced managers, supervisors, business professionals and executives are encouraged to explore and apply to job opportunities here.
About G.A. Rogers & Associates
A division of PrideStaff, G.A. Rogers & Associates specializes in executive and professional recruiting. The parent company was founded in the 1970s as 100 percent company-owned units and began staffing franchising in 1995. They operate over 85 offices in North America to serve more than 5,000 clients. With 40 plus years in the staffing business, headquartered in Fresno, CA, all PrideStaff brands offer the resources and expertise of a national firm, with the spirit, dedication and personal service of smaller, entrepreneurial firms. For more information on G.A. Rogers & Associates services, visit our website.
PrideStaff and G.A. Rogers & Associates' shared Mission: Consistently provide client experiences focused on what they value most.
---
« Return to press room