G.A. Rogers & Associates Celebrates its First Anniversary of Professional and Executive Search Operations
May 17, 2022
---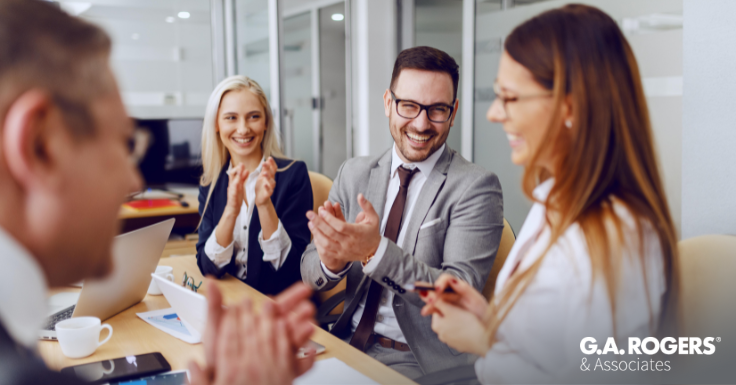 Having launched its newest division during turbulent economic times, PrideStaff, a nationally franchised staffing organization, is thrilled to announce the first anniversary and tremendous success of G.A. Rogers & Associates professional recruiting. A natural extension of PrideStaff's staffing and placement franchise, G.A. Rogers & Associates addresses clients' direct hire needs for executive, managerial and supervisory roles in PrideStaff's core areas of focus.
PrideStaff pursued this strategic growth to complement its existing divisions and deliver end-to-end solutions as a true workforce solutions provider. Expanding The PrideStaff Companies during the pandemic was not without its challenges, but G.A. Rogers & Associates' Vice President, Karen Cowan, was driven to build a new division that would meet clients' growing demand for top professionals and executives in the midst of critical talent shortages. Through the combined efforts of an amazing home office and Strategic-Partners, all dedicated to living their shared mission, G.A. Rogers & Associates launched divisions in 12 PrideStaff offices during its first year of operation. The brand also earned one of ClearlyRated's Best of Staffing® Client and Talent Awards for providing superior service to their clients and candidates.
"G.A. Rogers & Associates is thriving in its first year, thanks to an executive team with more than 40 years of executive and professional recruiting experience, one of the nation's most successful hiring infrastructures, the endless support of our home office, and bold Strategic-Partners who wanted to do even more to serve their local markets," said Cowan. "In addition to opening divisions in 12 offices over the past year, we also launched a state-of-the-art internal training program with our talented learning and development team. Designing this advanced training and adding more robust technology tools better equips our search consultants to expertly manage every step of the hiring process–creating better experiences, delivering exceptional results, and ultimately fueling everyone's success."
"I'm also extremely proud of our search consultants for embodying our vision and living our values of integrity, trust, innovation, respect, pride and reliability," continued Cowan. "We continually receive comments that G.A. Rogers & Associates' search consultants truly listen, follow up and solve problems. Hearing feedback like this from the clients and candidates we serve proves that we're doing things right–and are building a strong foundation for continued growth."
"Congratulations to everyone who helped meet aggressive launch timelines and contributed to the early success of G.A. Rogers & Associates," stated PrideStaff Co-CEO, Tammi Heaton. "This division allows us to more efficiently serve the full breadth of clients' recruiting needs and elevate the PrideStaff brand to that of a full workforce solutions provider. By remaining committed to our shared mission, to 'Consistently provide client experiences focused on what they value most,' the G.A. Rogers & Associations team has done much more than proactively recruit top professional, managerial and executive talent; they've become trusted advisors for both employers and career-minded professionals. As this division grows, so will our ability to effectively solve clients' complex hiring challenges."
For job seekers, working with G.A. Rogers & Associates means access to higher level positions throughout the country, many of which won't be advertised elsewhere. Experienced managers, supervisors, business professionals and executives can find their nearest G.A. Rogers & Associates office and explore job opportunities here.
About G.A. Rogers & Associates
A division of PrideStaff, G.A. Rogers & Associates specializes in executive and professional recruiting. The parent company was founded in the 1970s as 100 percent company-owned units and began staffing franchising in 1995. They operate over 85 offices in North America to serve more than 5,000 clients. With 40 plus years in the staffing business, headquartered in Fresno, CA, all PrideStaff brands offer the resources and expertise of a national firm with the spirit, dedication and personal service of smaller, entrepreneurial firms. For more information on G.A. Rogers & Associates' services, visit our website.
PrideStaff and G.A. Rogers & Associates' shared Mission: Consistently provide client experiences focused on what they value most.
---
« Return to press room